Municipal governments change and so do their priorities and budgets dedicated to certain topics and activities. In this environment, how can municipalities ensure that a topic and its related municipal activities are implemented and continuously developed over a long period of time?
Thinking about nature-based solutions, they need to be implemented but also maintained and financed and often it is important to adapt the nature-based solution to changing circumstances, such as climate change, change in population structure etc. Or a long-term strategy is important to ensure that a successful pilot comes to large scale implementation.
In this webinar, the European municipality of Granollers (Spain) and the Latin American municipality of Cuenca (Ecuador) will share with us their strategies for long-term implementation of nature-based solutions. We will hear from them things that did not work out as well as tips for other cities to replicate.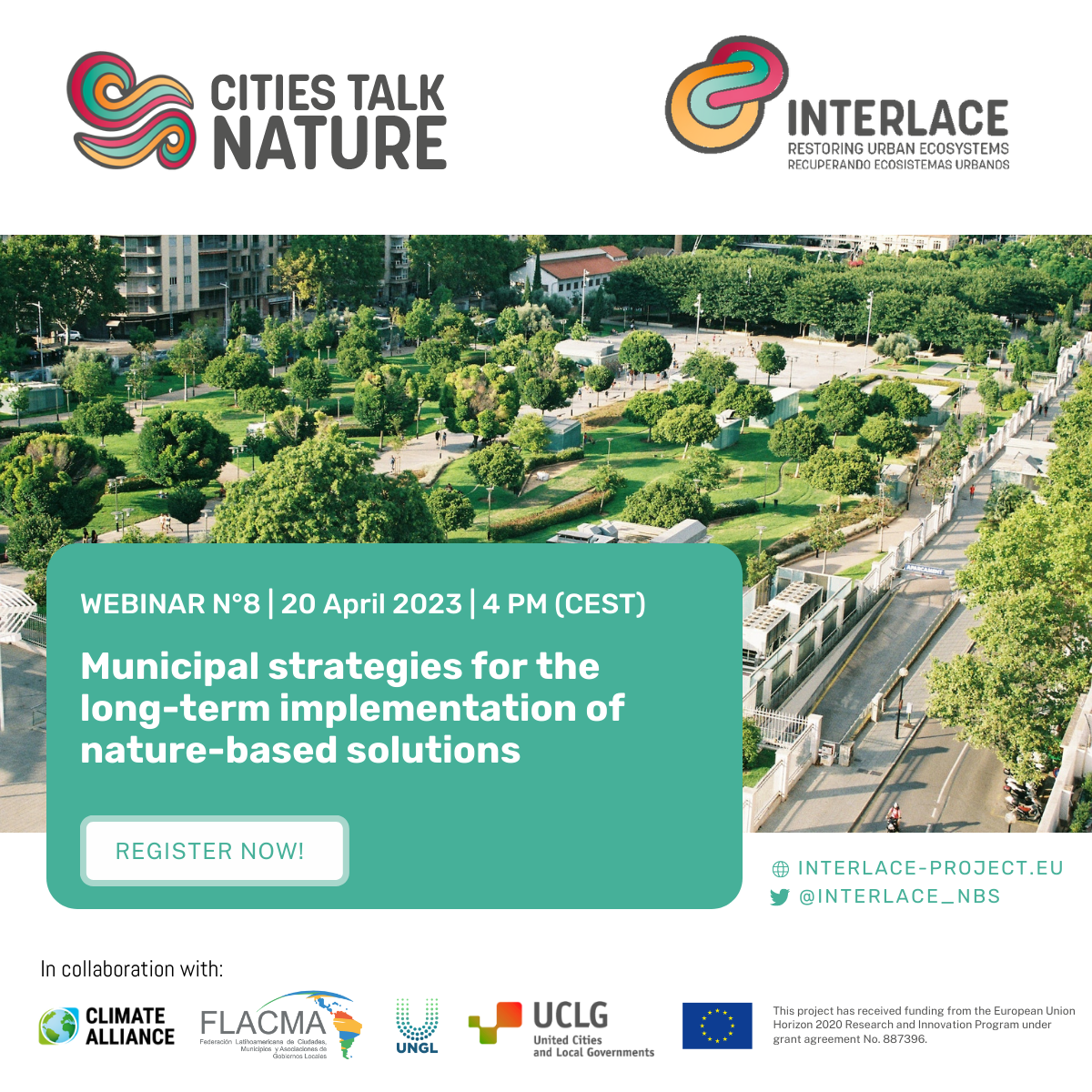 Speakers
Sofia Arce, Municipality of Cuenca (Ecuador), International Relationships Office
Xavier Romero Hidalgo, Municipality of Granollers (Spain), Environmental and Green Spaces Department
Date: Thursday, 20 April, 2023
Time: 16:00-17:30 CEST / 8:00-9:30 (UTC-6) / 9:00-10:30 (UTC-5)

The webinar will be held in English and Spanish with simultaneous translation. Attending the webinar is free of charge.
Please register at: https://us06web.zoom.us/meeting/register/tZ0lf-6sqz0jHd0eCLSshbPKomndANAb3m3l

CITIES TALK NATURE is a community of practice dedicated to restoring degraded ecosystems
in municipalities in Latin America, Europe and other parts of the world. Developed in the framework of the INTERLACE project, it brings municipalities together to explore the multiple advantages of restorative nature-based solutions, such as benefits for the environment, biodiversity, social cohesion and the local economy, thus building resilience in our towns and cities.